In the fall of 2016, my assistant guide Steve Unfreid spotted 24 black bear in 2 days above my lodge feeding on berries.  This over abundance of black bear prompted serious discussions about expanding our bear hunting to a spring season over bait.  (This allows hunters the best chance at a large, prime bear rug while passing on lesser bears.)
In the spring of 2017, we did a test run with 2 bait stations.  It took the bears only 2 days to find each bait site, and our trail cams recorded bears hitting the stations during both mornings and evenings.  My two assistant guides shot bear with both bow and rifle, with the largest squaring 6 1/2 feet with even larger bears seen but not harvested.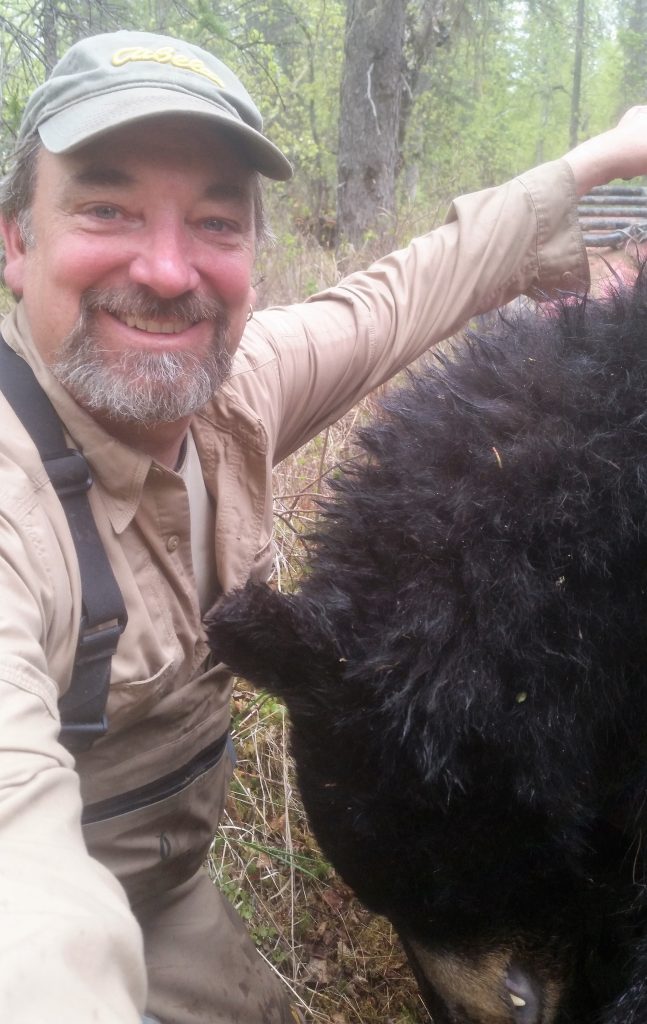 Thus, new for 2018 we are offering a fully guided, week trip (one travel day on each end, and 5 hunting days) for the all inclusive price of $5,500.00.  This allows the hunter to harvest one black bear, with a second available for an additional trophy fee of $1,500.00.  Note, we did not see any brown bear over the baits this spring, but we are in grizzly country–if a hunter wants to buy a brown bear tag, he is welcome to shoot one on a trophy fee basis of $5,000.00.
This hunt is based out of our lodge and features the use of ATV's to access our bait sites which are several miles away.  You return each day to good home cooked meals and a warm, dry cabin.
If you want to try a spot and stalk in the high country above our lodge, we can accommodate that style of hunt as well. We have tent camps that can be set up at timberline, and you would be glassing for bear that feed on the new grass at timberline.
Hunts for 2018 can be booked for either of the last two weeks in May, through the end of June. Limit 2 hunters per week.
Book soon to reserve your hunt.