All-Inclusive Self-Guided, Lodge-Based Black Bear Hunt
Treat yourself and a friend to a relaxing lodge-based hunt for black bear this fall! We supply everything; all you need to bring is your personal gear. Includes the following:
• Bush flight to and from our lodge
• Home-cooked meals
• Private cabin with wood heat
• Use of our main lodge
• Use of our ATVs to access the hunting area
• Direct access to our on-site hunting staff
• Two bears per hunter!
About the Amenities
Your cabin has separate bunks, a wood stove, plenty of room for your gear, and a great view of the lake. We have a wood-fired steam sauna where you can relax, and the main lodge features a dining area and a main room where you can kick back by a crackling fire in the evenings after a day's hunt. We have a generator, so there is electric power to charge batteries, etc. and we have telephone service. We also have a television with a huge supply of movies to watch if that's your thing.
About your Guide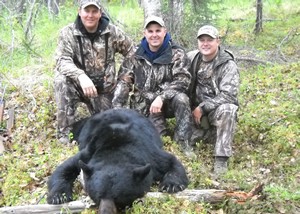 Your host Mike "Buck" Bowden owns the outfit, and he or one of his guides will be on-hand to provide on-site information about hunting strategies for the area; where to hunt, how to locate and stalk bears in his area, and what all to expect out in the field.
Depending on circumstances, he may also be available to assist in helping get your bears out of the field and deal with meat and trophy preparation. This area has excellent numbers of black bears, and we'd like to thin them out a bit.
About the Hunt
A typical day consists of a hearty breakfast, followed by a consulting / strategy session with our hunting staff. Then you'll take an ATV up the trail to any of several hunting areas, where you will spend the day glassing for black bears in the alpine. You can set a spike camp there if you prefer, or you can ride back to the lodge for dinner and relax in the sauna, watch a movie or tell lies until you wander off to bed in your warm cabin. Good company, great times and fantastic hunting. You are allowed to take two black bears per hunter.
Self-Guided Moose Hunts
Ask about our self-guided moose hunts; we have some great moose opportunities out our way, and the local knowledge and guidance we can provide can dramatically increase your odds of success over going it on your own.
Above is a clip showing our main lodge facility.