Come with us to Alaska

…and enjoy an unforgettable adventure in America's last true wilderness. A place that will test your limits and exceed your expectations.
Click here for our most recent photos.
My name is Mike "Buck" Bowden, and with over forty years in the business, I believe the words "fair chase" are much more than a marketing slogan. I've built my business on it.
All of our hunts use traditional spot-and-stalk methods as well as calling and observing. Our results are proof that the "old ways" still work.
 About Our Hunts
We offer both single-species and multi-species hunts for moose, brown / grizzly bear, Dall sheep, black bear and wolf. We conduct our hunts out of our comfortable lodge, nestled deep in the Alaska wilderness. We also offer adventurous float hunts on remote rivers, and fixed-camp hunts where hunting is done on foot, often out of remote spike camps. Each of the areas we hunt offers something unique, and it is for this reason that some of our hunters come back again and again, in order to get the full Alaska experience.
We welcome both archery hunters and rifle hunters, and our hunting camps offer optimal conditions for both. Whether you are considering your first Alaska hunt, or are an old hand at this, we have something you will really enjoy.
 A True Wilderness Experience
Few things in life can top hunting an unspoiled wilderness many miles from the nearest road, house or fence. Stepping out of the raft and realizing that the only tracks in the sand are from moose, bear and caribou, or relaxing by the fire as you watch the smoke curl lazily into the sunset sky at the end of a hard day of hunting, with the only sound coming from the gentle rush of the river and the melodious call of a pair of trumpeter swans landing on a nearby beaver pond… these are the sights, the sounds, and the aromas of a real wilderness experience. You realize that you are making memories you will carry for the rest of your life.
Alaska is calling.
Our sheep hunting has been very good over the years, as a result of limiting the number of hunters we take in order to help conserve the resource.
Black bears are available just about everywhere we hunt, and many of our hunters will opt to pick up a black bear tag along with their tags for other species.

We conduct both spring bear hunts and fall moose and brown / grizzly bear hunts, along with black bear, out of our lodge.
Our bear hunts are conducted out of the lodge in the spring, and out of remote camps in the fall, on the river, or out of the lodge.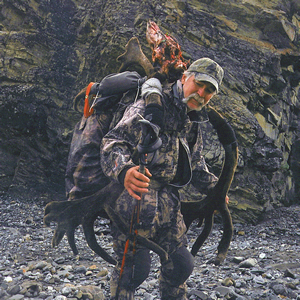 Caribou are found throughout our hunting areas, and are available as an add-on to several of our hunts.
We offer multi-species float hunts on a remote river that's produced well for us over the years for moose and bear.
We hunt moose in several locations, using a variety of methods including float hunts, spike-camp hunts, and
lodge-based hunts.
Trapping Adventures

Looking for something different? We offer winter trapping adventures in two remote locations, accompanied by an accomplished Alaska trapper with over 30 years of experience. The fur you catch is yours!
We offer do-it-yourself, fully outfitted and guide-supported hunts for black bear out of our lodge.
Give us a Call:
Mobile 1 (907) 863-4665

Or Send us a Message to hiddenak@gci.net to discuss your Alaska Hunting Adventure!