Meet Our Guides & Staff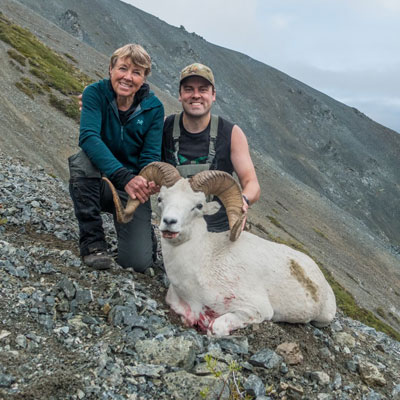 Kyle Virgin
Kyle is a third generation Alaskan resident originally from the Copper River Valley. Though he lives in Palmer now, much of his subsistence way of life hasn't changed. Throughout the year he can be found hunting and fishing with his wife and daughters to keep their freezers filled with everything Alaska has to offer. High mountain hunting is Kyle's passion, especially when it involves sheep or bears. Growing up listening to stories of his Dad's guiding, it has always been a dream of Kyle's to help hunters achieve their dreams as well.

Tony Marchini
Tony Marchini is a born and raised Alaskan. He grew up in rural Alaska and has been hunting, trapping and fishing since he was seven, taking his first caribou when he was nine. Tony loves the outdoors and feels the most at home when he is out there. His 14 years of wildland fire experience as well as his hunting experience have made him an educated outdoorsman, and is comfortable in even the most inhospitable weather and situations. Tony is a bush pilot as well and loves to spend his off time flying in remote Alaska and landing on ridge tops and gravel bars in his supercub. Tony's two favorite animals to pursue are the Dall sheep and Brown/Grizzly bears. Calling in a big old bull moose is pretty exciting as well. Having had success of his own hunting, Tony's true passion and enjoyment now come from getting an individual their first animal. He looks forward to giving you a trip of memories and experiences of a lifetime.

Brad Burns
We welcomed Brad to our team in 2017. While new to us, Brad is no stranger to guiding in Alaska. Brad was raised in Alabama, killing his first deer at age 8. Brad came to Alaska in 1998 via the Air Force. With the threat looming to leave Alaska for his next duty assignment, Brad left the Air Force and joined the Alaska Air National Guard to make Alaska his permanent home. Brad also has studied wildlife biology and is an avid bow hunter, so he has learned much about the game he pursues up close and personal.
Jens Klaar
Jens is an Olympic athlete originally from Sweden who has guided with us for over two decades. As such, he's been our go-to guy for some of our most demanding hunts. Jens specializes in spring brown bear and sheep hunts. Jens' mark on Hidden Alaska is permanent, from the additions around the lodge to improvements to our outlying camps. When not guiding, Jens makes his home on the Kenai Peninsula where he exercises his craft of knife making. Jens is also one of our more creative cooks in the field. Bottom line, Jens works extremely hard for every client and I've yet to hear of anyone who says otherwise. The saying, "he goes the extra mile" is a fitting description of Jens–both literally and figuratively.
Nate Nelson
Raised near the Bob Marshall wilderness in Montana, Nate tagged his first deer at the age of 12. After making his way to Alaska in 2001, he fully immersed himself in any hunting and fishing opportunities that Alaska had to offer. Although he enjoys all hunting, Nate truly gets a kick out of being above tree line. He has harvested moose, bears, caribou, whitetail,  sitka blacktail deer, mountain goats, bison, water buffalo, and sheep. When not out hunting, Nate can probably be found in Homer on his fishing boat, or at his home in Sterling, AK running his sawmill
Jason Rickard
Jason grew up in rural upstate NY, where he started hunting with his dad at age of 10. He took his first deer with a bow and has been hooked on hunting ever since. In 2009, Jason and his wife moved to Alaska to fulfill his dream of hunting, fishing, and becoming a guide. Since then, Jason has harvested moose, caribou, sheep, and black and brown bear. Jason believes in hard work, respect for the terrain, and each animal. Jason looks forward to the joy and thrill of guiding you to fulfill your Alaska dream as well!
Nick Davis
Nichalas was born in Oregon and raised in Alaska from the age of ten years old. He understands the demands it takes to bag a true, once-in-a-lifetime trophy animal.  He is known for his enthusiastic attitude, endless endurance, and commitment to putting hunters on full curl RAMS. Nick has 25 years of big game hunting experience. Since guiding for Hidden Alaska Guides and Outfitters, he has proven to have an aptitude for putting clients on the target game.  You will not find a more positive guide than Nick that excels at personal experiences while taking an animal in the Alaskan outback.

Cooper Hanson
Cooper was born and raised in the Mat-Su valley of Alaska, and after spending a year outside of the state he was drawn back by the hunting and fishing he grew to love as he was growing up. While hunting the Alaskan mountains is Cooper's primary focus and love, bear baiting, bow fishing, and chasing large lake trout fill the remainders of each year. After graduating from the University of Alaska Anchorage with a degree in Physical Education and Recreation, Cooper is looking forward to the coming years working around the state in remote hunting areas.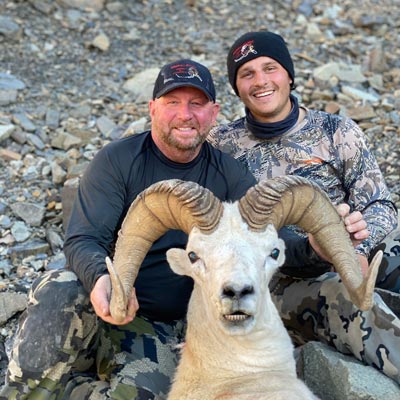 Jake Lamphier
Jake moved to Alaska in 2005 as a teenager and has spent the last 15 years hunting, fishing and exploring the wilderness of Alaska. In 2020, Jake joined the team at Hidden Alaska and even though he is a rookie to the guiding world, he has been intimately involved in the taking of Dall sheep, mountain goat, brown bear, moose, caribou, bison and Sitka blacktail deer. Jake's passion for hunting is rooted in the experience of thriving in the backcountry, all the while hunting some of North America's most iconic wildlife. Hunting is much more than a hobby for Jake, he considers it a defining attribute of his life. When he isn't spending time in the mountains, Jake can be found working on his family farm, growing food for his family and community.

Jake Ohms
The best part of hunting in Alaska is being outside, in the environment that these animals live in.  Jacob was born and raised in Alaska. He has spent my life outside, hunting or backcountry skiing.  Sheep hunting is the pinnacle of Alaska hunting. Being outside, in the mountains is the best place in the world to be. Perusing the animal is only one small part of the experience though.  Spending the time enjoying the entire "process" is the most important thing. You will find with any Hidden Alaska guide that the kill is only a small part of the process. I hope that as a guide I will be there with you to enjoy the overall hunt. From the flight in to the flight out.  All animals that we hunt with Hidden Alaska have there own special place and you can't go wrong with what animal you choose to peruse.  Bear and moose are very exciting to hunt. Having a large boar come in will always get the blood pumping.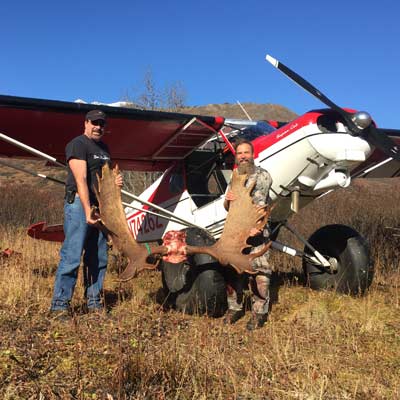 Joe Huston
Joe is more than our resident air charter service pilot. Joe is an integral part of our team. Joe's experience in Alaska dates back to the 90's when Joe moved from Washington State to pursue his love of flying–bush flying. Joe's skills in landing on snow covered slopes, or on narrow gravel bars are second to none. Because he also flies areal surveys for the Alaska Department of Fish and Game, his knowledge of wildlife is unmatched. If you happen to book a spring bear hunt with us, make sure to prod Joe into telling his story of how God spared his life following his brown bear mauling. You will leave inspired and a better person after spending time with Joe.