Our float hunts put you on a river of outstanding beauty. On a recent hunt, we spotted 11 brown bears, 23 black bears, two caribou, two bull moose, and a porcupine! The river offers great fishing for salmon, rainbow trout, Dolly Varden, and grayling, and the scenery is second to none!
The river is a real draw for bears, because of the salmon runs, and it is very common to see fresh tracks and freshly-chewed salmon carcasses on the banks and gravel bars. This area is home to both black bears and brown bears. Because brown bears will stalk and kill black bears, blackies in this area are sometimes skittish, and you're more likely to find them high in the berry patches away from the river. Brown bears are often found on the river itself, but will move up onto the slopes at times, for a change in diet. As a result, hunting tactics for bear may change during a typical hunt, depending on what the bears are doing. (This monster brown bear was taken as he came down to feed on spawning salmon on a late August float hunt.)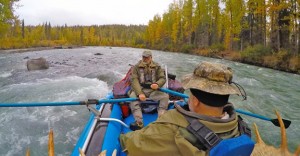 Moose are one of our more popular float-hunt animals, and they're mostly found in the river bottomland. You may expect to do a little hiking to get to some of the better places, but moose are mostly a waiting game.
You may do some calling, followed by long periods of glassing. Patience pays off, however, and we have often sat on a gravel bar for several hours, only to have a big bull come ghosting in right at dark.
The float hunts involve camping in tents, and hunting on foot. You'll need chest waders and good rain gear on your float hunt. Be sure to check our float hunt gear list on our Gear Page for a complete listing of what you'll need.
Both moose tenderloin and fresh caught fish over the coals, add to the total wilderness experience of a float trip–one you will surely savor even years after returning home.
Fishing Opportunities
The rivers we hunt offer fishing opportunities for salmon, rainbow trout, grayling, and Dolly Varden char. Bring a rod along and sample some great fishing!
16″ Dolly Varden make for a great change-of-pace after eating Mountain House freeze dried meals.