David Garganta
"I moved to Alaska in 1970. I graduated from Chugiak High School in 1979, joined the Alaska Air National Guard in August 1980 and spent the next 38 years in service to our country. I have been a registered guide and outfitter for 28 years. I've hunted, trapped and fished all corners of Alaska from Southeast to the Arctic, the Alaska Peninsula to the Interior. When I'm not hunting, fishing or guiding in Alaska, I enjoy traveling to hunt other states and countries. My travels include Oregon, Arizona, Montana, Wyoming, Colorado, New York, Namibia, Zimbabwe, Argentina, and New Zealand. I have a passion for hunting, fishing, trapping the outdoors and wildlife conservation. I'm a life member of the following organizations: National SCI, Alaska SCI, NRA, Boone and Crockett Club, and (VFW) Veterans of Foreign Wars. I truly look forward to hunting with you."
Tony Marchini
Tony Mar
chini is a born and raised Alaskan.  He grew up in rural Alaska and has been hunting, trapping and fishing since he was seven, taking his first caribou when he was nine.  Tony loves the outdoors and feels the most at home when he is out there.  His 14 years of wildland fire experience as well as his hunts have made him an educated outdoorsman, and is comfortable in even the most inhospitable weather and situations.  Tony is a bush pilot as well and loves to spend his off time flying in remote Alaska and landing on ridge tops and gravel bars in his supercub.  Tony's two favorite animals to pursue are the Dall sheep and Brown/Grizzly bears (having taken over 35 sheep and over a dozen bears).  Calling in a big old bull moose is pretty exciting as well.  Having had success of his own hunting, Tony's true passion and enjoyment now come from getting an individual their first animal.  He looks forward to giving you a trip of memories and experiences of a lifetime.

Brad Burns
We welcomed Brad to our team in 2017.  While new to us, Brad is no stranger to guiding in Alaska. Brad was raised in Alabama, killing his first deer at age 8. Brad came to Alaska in 1998 via the Air Force.  With the threat looming to leave Alaska for his next duty assignment, Brad left the Air Force and joined the Alaska Air National Guard to make Alaska his permanent home. Brad also has studied wildlife biology and is an avid bow hunter, so he has learned much about the game he pursues up close and personal.
Brad and one of his many fine bulls.
Andrew Hofer

Andrew started his hunting in South Dakota with rifle, bow and shotgun chasing whitetail, mule deer, pheasant and waterfowl. Ten years ago he took the plunge and moved to Willow Alaska. Since moving to Alaska, Andrew has taken moose, Dall sheep, Sitka blacktail deer, and both black and brown bear.
Andrew with a classic mature bull.

Jens Klaar
Jens is an Olympic athlete originally from Sweden who has guided with us for over two decades. As such, he's been our go-to guy for some of our most demanding hunts.  Jens specializes in spring brown bear and sheep hunts.  Jens' mark on Hidden Alaska is permanent, from the additions around the lodge to improvements to our outlying camps. When not guiding, Jens makes his home on the Kenai Peninsula where he exercises his craft of knife making. Jens is also one of our more creative cooks in the field. Bottom line, Jens works extremely hard for every client and I've yet to hear of anyone who says otherwise.  The saying, "he goes the extra mile" is a fitting description of Jens–both literally and figuratively.
Jens (R.) with a well furred, spring brown bear
Matt Rees
Matt is a professional who guides throughout our western states and internationally, and has guided for Hidden Alaska for 4 years.  Matt has guided hunters in taking brown bear, Dall sheep, and moose with both gun and bow.  Matt's sense of humor around the camp fire and along the trail keeps spirits high.  Matt never quits on a hunt and this year guided his wife Cristy in taking her first Dall ram. When Matt isn't guiding, he's busy running his construction company in Flagstaff, Arizona or leading rafting expeditions on the Colorado River.
Matt (L.) and a tremendous 42″ ram.

Steve Runyan
Steve has hunted in Alaska since 1985.  He has taken moose, caribou, deer, black and brown bear, grizzly and sheep. Steve is our resident expert on all the intangibles of Alaska.  Want to know how to make Chaga tea from birch trees, or Labrador tea from the tundra? Steve's your guide. Want to enjoy your sheep tenderloin over the coals? Again, Steve will have a killer recipe. Since Steve has also worked as a fishing guide, he is the resident expert on maximizing your hunt by showing how to catch the Dolly Varden, grayling and salmon found in the rivers we hunt. Steve has guided for Hidden Alaska for 4 years and is a seasoned pro on our float trips. Steve has successfully guided his clients to moose (with both gun and bow), bear, sheep and caribou. His pre-guiding workout includes working bait stations across miles of swampy bogs, and fishing up and down salmon/trout streams and rivers in the summer.
Steve shown with a 57″ bull taken from a lodge hunt.
Jason Rickard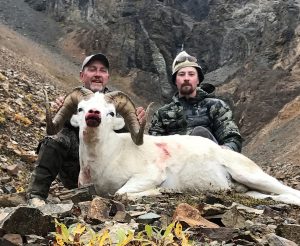 Jason grew up in rural upstate NY, where he started hunting with his dad at age of 10.  He took his first deer with a bow and has been hooked on hunting ever since.  In 2009, Jason and his wife moved to Alaska to fulfill his dream of hunting, fishing, and becoming a guide.  Since then, Jason has harvested moose, caribou, sheep, and black and brown bear.  Jason believes in hard work,  respect for the terrain, and each animal.  Jason looks forward to the joy and thrill of guiding you to fulfill your Alaska dream as well!
Jason (r) shown with a B&C ram.
 Glenn Elliot
65″ bull taken by Jeremy Tobin. Jeremy was guided by Glen Elliot.

Daniel Unfreid
Daniel Unfreid was born in Alaska and has spent most of his life hunting, fishing, and trapping here. He is an accomplished rifleman and bowhunter.  He's taken over a dozen bull moose, to include one with his bow. He's also taken bear with both bow and rifle as well as caribou, goat and sheep. Daniel took his first ram at age 16.  This year he joined Hidden Alaska and immediately put his decades of hunting experience to work by guiding his client Ed Carroll in taking a fine 8-year-old, 35 1/2″ ram. Daniel is extremely hard working and a true pleasure to have in the field. Daniel's strength and determination are second to none.
Daniel (L.) with his client Ed Carroll and his fine 35 1/2″ ram.
Andrew Wesley
Andrew (goes by Wesley) started hunting at age 7 helping with his father's guide service business in Washington State where they focused specifically on predators. He later joined the Navy where he trained as a Navy diver.  Having traveled the world, Wesley has hunted in both North America and Europe taking deer, elk, bear, moose, wild boar, and turkey. Wesley is a skilled cameraman, fly fishing instructor, and deckhand.  He also guides for Veterans Non-Profits in Europe and North America.
Chantrelle Cousins

Chantrelle brings a wide range of skills to Hidden Alaska.  She is our resident camp chef who could be employed in the finest restaurants in the world.  But don't let the fact that she can design a meal fit for royalty fool you–she is no slouch in navigating our bogs on a 4-wheeler, pulling maintenance on a generator, or packing a bull moose hind quarter back to camp–Chantrelle can do it all.  Spend some time at our lodge with Chantrelle and you will leave happier, and healthier.
Chantrelle packing out a fine bull on a lodge hunt in 2016.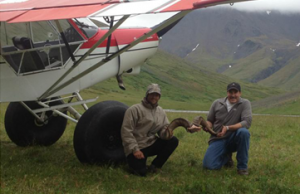 Joe Huston
Joe is more than our resident air charter service pilot. Joe is an integral part of our team. Joe's experience in Alaska dates back to the 90's when Joe moved from Washington State to pursue his love of flying–bush flying. Joe's skills in landing on snow covered slopes, or on narrow gravel bars are second to none.  Because he also flies areal surveys for the Alaska Department of Fish and Game, his knowledge of wildlife is unmatched. If you happen to book a spring bear hunt with us, make sure to prod Joe into telling his story of how God spared his life following his brown bear mauling. You will leave inspired and a better person after spending time with Joe.
Joe (R.) on one of his many tundra landings.
Joe and one of his many high mountain snow landings.